1957 - Inaugural Meeting
On the 14
th
February 1957, a small group of men gathered in Wellington to form a Federation that could wield some strength in representation to Government, to further some standardisation with componentry and possibly generate some buying power [
Read the minutes here
]. A major concern of the day was the imported trailers that didn't meet local regulations in terms of width, length and braking efficiency. A perennial problem that we still face today.
There was also a concern about a proposal to increase the length of articulated vehicles from 36ft to 40ft - its' limitations and dangers... who knew?
Those men represented some of the biggest builders of the day. Some of them are still represented by a later generation today. There were other builders then, who never joined the Federation and some that eventually did, but didn't last. But these ten men forged an empire. For more on the Federation guardians ...
[
read more
]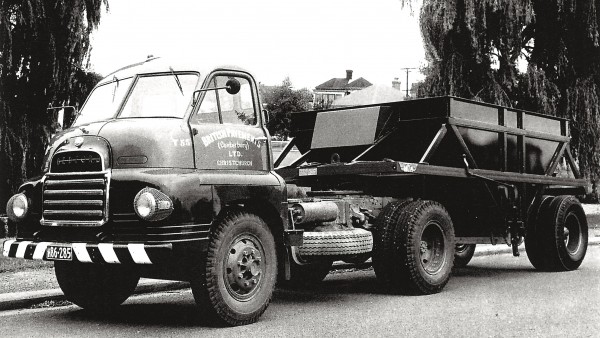 In 2004, NZ Truck Trailer Manufacturers Federation commissioned writer, Mike Isle, to write an historic record of the truck trailer manufacturing industry in NZ. In researching our history, the book became more about the people than the trailers - Men and Women who built an Industry. It makes sense to share the pages of the book, Ridin' the Rainbow, when talking about our history
On this page we reference the sections of the book and have linked those chapters for the reader. Please note, the book was completed in 2006 so there have been many changes in the ensuing years, both with the companies and the people. Sadly, a number of our legends have passed on and some of the companies have either closed down or changed hands.
Stay tuned for our next book in 2023.
Who was first commercial Trailer Builder? - The Pre-War pioneers
History is unclear - there are two contenders for this title pre-dating World War II:
Inglis Brothers and Abingdons.
Inglis Bros. advertised their semi trailers in 1925. Abingdons claimed they built their first in 1933
It's not known if each advert was their first...
Inglis Bros was incorporated in 1916 and was dissolved in 1942 so there is little known about them.
Abingdon Trailers was a foundation member of TTMF and it's sole owner, Eric May, was our first Life member. In 1964 Rod Steel (Steel Bros) bought all of Eric Mays shares and consequently their import license.
Further information [read more]
The Post-War Era
The second world war and its immediate aftermath were watersheds for NZ truck-trailer building - in fact just about every aspect of the industry as it is today stems from WWII. New Zealand would be invaded by bigger and better trucks, which would lead to larger loads, and consequently bigger and better trailers. That period would produce many of the major trailer-building companies still with us in one form or other today. It would also establish and entrench much of the technology still in use today, and instil much of the trailer-building industry's hallmark entrepreneurial spirit.
And much of what the industry is today, we owe to two men who saw, took and turned a climactic but opportune time in our history into a "new" industry. Those men were Jack Tidd and Ray Vincent. Neither man was on active service during the war, but both saw the opportunities it afforded for the New Zealand road transport industry. [Read more]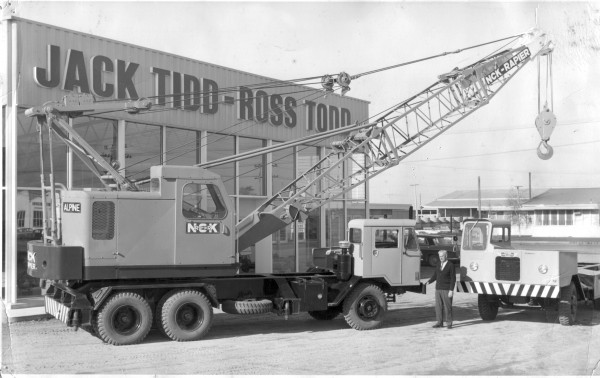 In the post-war era, a number of other men saw, and took, the opportunities that arose from the surplus military equipment now available and their experience whilst serving overseas - in particular, with trailers.
Ian Currie, TMC Trailers
Bill Walker, W.P. Walker Ltd
Frank Tapper, Tapper Construction
Dave Domett, Domett Truck & Trailer Co. Ltd
Russell Law, Domett Truck & Trailer Co. Ltd
Rod Steel, Steel Bros
These are their stories...[read more]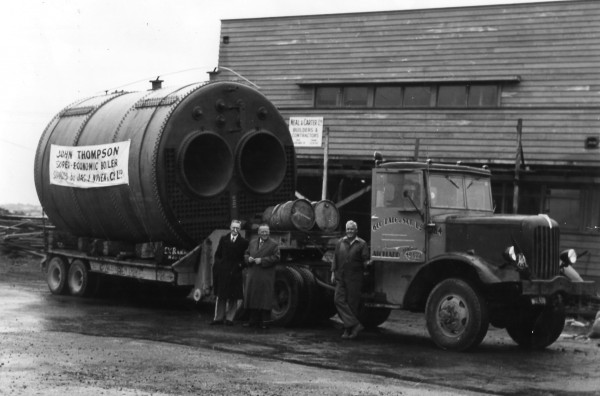 The Rotorua builders
Rotorua has always been a lucky town - an opportunist town. Rich in natural and marketable assets, it has produced a population adept at exploiting what Nature provided and augmenting it with what they themselves create. The original settlers, the mighty Arawa, knew the advantage their unique geothermal resource gave them and fought fiercely to protect it. Later they would work in concert with Europeans to exploit and expand those natural resources. That would change dramatically with the emergence of the "new" industry of forestry. The town, soon to be a city, and the great forests that surrounded it , would attract a new breed of opportunist-men and women with skills looking for an outlet. Rotorua's population would double in the 50s and 60s.
We tell the stories of those early Rotorua legends - Manu Tuanui, Hugh Allen Mills, Neil Peterken, Ian Patchell, Graeme Kelly, and Pat Mear [read more].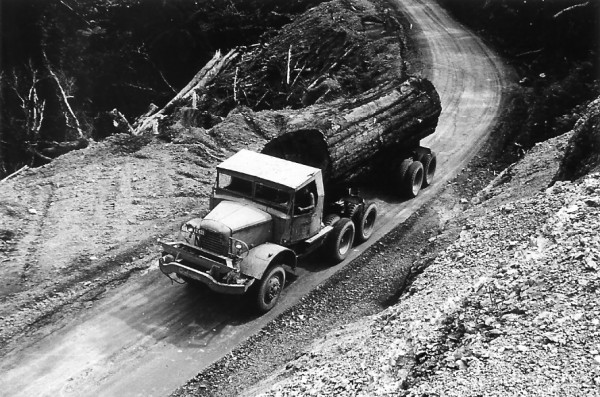 The Hamilton spin-off
The war was good for trailer building in Hamilton. It produced Jack Tidd, for a start. And he gave us-TRT-Tidd Ross Todd. Of course, he wasn't alone. Far from it. Indeed, many see the driving force of TRT in Jack's three fellow founding partners Dave Carden, Norm Todd and Jim Ross.
Ian Stevenson and Bill Box both served apprenticeships with W P Walker in the early days - they formed Transport & General Engineering Co. Ltd in 1955. They were ambitious and although they started their business concentrating on general engineering, within a year they had built their first trailer. In 1969 they built their first aluminium truck body and trailer.
A man who worked for Ian Stevenson and Bill Box and reckons he "loved" every moment of it, is Robin Ratcliffe. He was put to work on transporters (lowloaders), designing them, planning them, and making them. The giants of the trailer world became his passion, and today they are much of the focus of the company he founded, Modern Transport Engineers. [read more]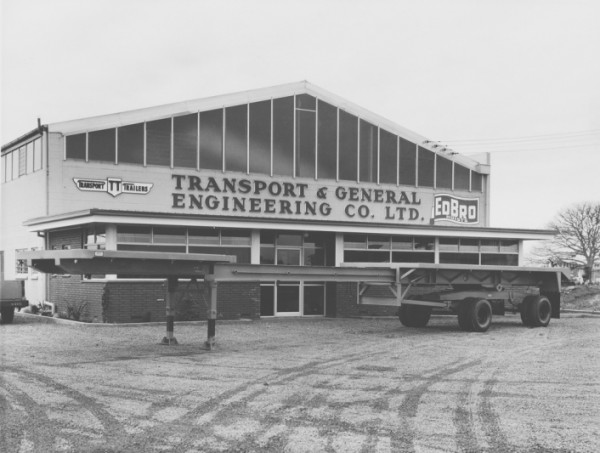 Bloody Aucklanders!
Some of Auckland's most prominent trailer builders of the past and today either originated or were given their start outside of Auckland. Tapper Transport Engineering coming down from up north; Fairfax Industries-connected with Dometts from Feilding, and Transfleet Equipment-also influenced by Dometts.
But Victor Couwenbergh started Equipment Fabricators in Mt Roskill (which business evolved into Transmech Ltd). He retired close to half a century later after building truck bodies and trailers in Auckland. His son Anthony, in partnership with Tony Cook, has continued in the industry, in Auckland, with their business, Transmech NZ Ltd.
Of course these weren't the only trailer builders in Auckland. Neil Boys, Tanker Engineering, has captured a lion's share of tanker manufacturing in new Zealand. Whilst Maxitrans are a foreign owned enterprise they are one of the largest trailer builders in NZ (at time of writing). [read more]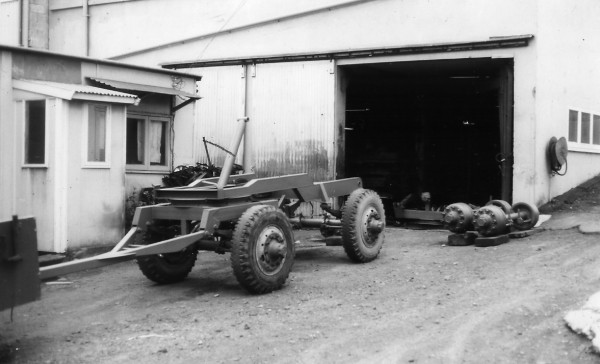 Trailer building in New Zealand has always been about the innovations of our industry legends and the imagination of the operators who were their customers. They were prepared to try things and take risks, mostly financial. We needed to compete on a global stage so we had to adapt products to suit NZ roads and regulations. From cannibalising surplus army trucks for trailer axles to motorised trailers - our pioneers were always ready for a challenge.
NZ trailer builders have an ingrained number-eight-wire approach to most things. It has served us well and today we import, design and manufacture world class products. We are still pushing the envelope when it comes to innovation, but that's what we're made of. We review some of those notable developments. [Read more]